We are pleased to announce that Donald Shipp has been appointed to the Board of Directors of the Minnesota Pilots Association.  Many of you know him through his innovative and inspiring work as a founding member of the Forest Lake EAA Chapter 1638.  That chapter has become quite active and productive since he took over as their leader.  His enthusiasm for aviation is infectious, and there is no known cure!
Don is the consummate aviator.  He has 26,000 hours of flight time and currently is a Captain with a major airline.  Don is a graduate of the University of North Dakota aviation program and has extensive experience as a flight instructor, providing instruction to students in private, commercial, instrument, multi-engine, tailwheel and aerobatic flight.
What may not be known to you is that he is a three-time World Overall Airline ski champion.  He is the founder and program director of the Wild Mountain Ski Team.  He has served as the Head Coach of the Hill-Murray Ski Team in Maplewood, MN.  He was voted as Coach of the Year in 2022 by the Minnesota High School Coaches Association.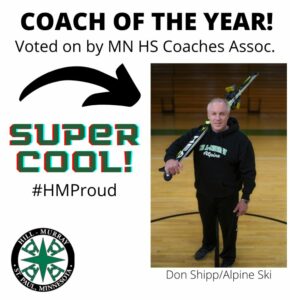 Don's bride of 27 years is Mary Shipp, DDS, and they have a son, David.
We are delighted to have him on our Board.  Welcome, Don!