ABOUT MINNESOTA PILOTS ASSOCIATION
The mission of the Minnesota Pilots Association is to promote and protect aviation in our State through advocacy, education, outreach and social activities. Our association firmly believes that a healthy aviation community is an invaluable asset to the State of Minnesota. Members and volunteers join to act as the voice of pilots, aviation enthusiasts and supporters of aviation in Minnesota.
What is the MNPA?
The short answer is that the MNPA was founded in 2013 as a 501(c)3 nonprofit to represent the pilots of Minnesota at the State level.
The reasons people join the MNPA are as diverse as our members. We count among us student pilots to professional pilots. We fly seaplanes, warbirds, spam cans, tail draggers, shinny modern private aircraft that can make the world a little smaller or rag wings that go nowhere very quickly. We fly for a living or "live for flying." and in that we have something in common that we want to celebrate, share with others like us, and advocate for the lifestyle we love and want to preserve this passion for future generations.
If you're the one in the crowd who looks up when they hear an airplane, we're glad you've found us. We invite you to become a member and share your love of flight and help us advocate in the great state of Minnesota!
Your Board of Directors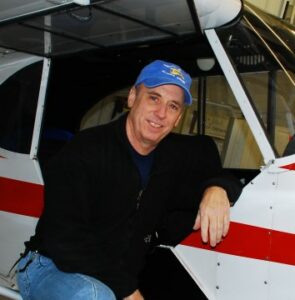 Randle S. Corfman
President
Randy Corfman, PhD, MD, AME, is a scientist, physician, aviation medical examiner and pilot who incorporates his love of practicing medicine with his love of aviation. A 7500 hour commercial rated pilot, he holds instrument, multiengine and seaplane ratings. He flies a Cessna T210 across the upper Midwest to provide onsite consultations, and a Piper Super Cub for "real flying."
Randy grew up on a Kansas farm, watching airplanes flying overhead into and out of Wichita for as long as he can remember. He serves as an aviation medical examiner, in addition to his practice as a reproductive endocrinologist.
Randy hosts "Medical Matters" on Supercub.org, a forum in which a variety of medical topics are discussed, as they relate to aviation. Randy is a frequent presenter at aviation conferences and EAA chapters. He is president and founding member of the Minnesota Pilots Association and a long term member of EAA and AOPA. Randy's wife, Julie, and their five children and seven grandchildren appreciate and enjoy aviation. A good friend of Santa Claus, he loans his Super Cub to Santa annually for Santa's Flyins! He is looking forward to getting his grandchildren into the friendly skies.
Get to Know Randle Corfman!
Favorite aircraft?
Personally, I greatly enjoy flying my PA18 Super Cub.  Low, slow and a magnificent short field performance aircraft. Historically, I have two favorite aircraft: 1. P51 Mustang; 2. B-17.  My uncle flew the B-17 in WW II and he was my inspiration to fly.  The P51 simply has such an incredible outline and served us so well that I hold it in the highest regard.

Favorite thing about the MNPA? 
I was fortunate to be able to gather a number of dear friends together to found the Minnesota Pilots Association in 2013. We shared the conviction that we needed a pilots association in Minnesota, and together we established the MN Pilots Assn as 501(c)3 nonprofit.  We wished to promote aviation in Minnesota through education, advocacy and social events.  The Great Minnesota Aviation Gathering was established as an annual event, bringing together pilots and aviation enthusiasts from across the State and region to celebrate aviation

Fun Fact
I happen to know Santa Claus personally.  He arranges to have my Super Cub decorated by his elves each year before Christmas, then flying it to deliver gifts to many children across Minnesota.  I happen to bear a striking resemblance to Santa, but surely that is only a coincidence! (see attached photo).
Paul Jackson
Vice President
Paul Jackson has a diverse aviation background. To date, he has accumulated over 26,000 hours of flight time. He has a passion for aviation that extends beyond his career as a professional pilot and aviation business owner.
He has flown everything from pre-World War II aircraft to modern jets. He was the co-host of "The Flightline" aviation TV show that aired on the Discovery Network, Fox Sports North and local television. The show is seen worldwide thru Amazon Prime and iTunes.
Paul has served as a lobbyist in Washington DC and is a member of AOPA, EAA, Warbirds of America, North American Trainers Association, Seaplane Pilots Association, Recreational Aviation Foundation in addition to his membership in the Minnesota Pilots Association.
He operates a seaplane base in McGregor, MN and keeps a full-time residence with his wife Kristi and a very sleepy beagle in the Minneapolis area.
Get to Know Paul Jackson!
Favorite aircraft?
Cessna 180 though a J3 makes my heart go pitter patter
Favorite thing about the MNPA? 
It's a critical organization for an aviation active State and a much needed voice for pilots at the State level
Thing that can only happen in Minnesota
Amphibs until October and Skis until March…..
Fun Fact
I don't have a hole in one….yet
Michael Bergeson
Treasurer
Mike's first airplane ride was in a Super Cub out of a cow pasture when he was about 6 years old. After that short flight, he knew he wanted to be a pilot. He started flying in high school and received his private pilot's license just after his 17th birthday.
Although not pursuing aviation as a career, it has been an important part of his life. "Every time I push the throttle forward I get goosebumps! If I wasn't flying full size aircraft, I was flying radio-controlled models". Over the years he has owned a Pietenpol Aircamper, a Piper PA18-150A, a Cessna 182Q, and he currently owns a beautiful 1942 Stinson V-77 Gullwing that he flies as often as he can. Mike will soon have another Cub, as he is currently building Javron Super Cub. He notes that his interest in general aviation has always leaned to the older general aviation airplanes.
When Mike was getting his private pilot license he recalls how busy airports were, with many young people learning how to fly. He recalls that most of the ranchers where he grew up had either a Piper Cub or an Aeronca Champ. "Today, airports are fenced off and look more like a prison than a place of enjoyment. There is nothing like flying into a grass strip and having people come over and visit with you about your airplane and ask questions about how they can learn to fly." He encourages young people to get into aviation, if not for a career, for a place of relaxation where they can "gather their thoughts and enjoy the beauty of the world around them."
Get to Know Mike Bergesen!
Favorite thing about the MNPA? 
Mike joined the Minnesota Pilots Association shortly after it was formed. Mike's favorite thing about the MPA is that they are a positive force in promoting aviation throughout the state of Minnesota. 
Fun Fact
Mike and his wife, Jill, have 8 kids and 15 grandkids. He states "Christmas gets a little crazy!" With his desire to figure out how things work, Mike worked in manufacturing, producing various products such as air filters and air intake systems for turbine engines, refrigerators, microwave ovens, building products, and most recently cookware and bakeware. 
David Austin
Dave Austin's passion for aviation started over 30 years ago when he was graduating from high school and his father asked to do something together that they would never forget. They drove out to a small airport in southern Illinois near where Dave grew up and embarked upon getting their pilot licenses together. The experience was life changing and since that time Dave's aviation activities have included holding Commercial Pilot and Certified Multi-Engine Instrument Flight Instructor Certificates. He earned degrees from Southwestern Illinois University in Pilot Training as well as Aviation Management from Southern Illinois University.
Dave and his family have owned and operated many aircraft over the years, but his favorites have included the Mooney Porsche, Shrike Twin Commander and his current Mooney Bravo. His aircraft have aided his career as an insurance agent, investment registered representative and securities principal servicing clients primarily in a 10-state area.

Dave and his son RJ are founding members of the Northern Flights Squadron of the Mooney Caravan and participate in their formation mass-arrival to Oshkosh Airventure. Dave, his wife Stephanie and R.J. enjoy spending as much time as possible outdoors and can be regularly found at the Buffalo Municipal Airport (KCFE) preparing for their next adventure.
Patrick Halligan
Patrick Halligan was born and raised in north Minneapolis. He was introduced to aviation by his uncle, Jerry Farrell, an airline pilot at the time. He started flying lessons at Anoka Airport. He soloed as a high school senior and then received his private pilot license a short time later.
Pat attended the University of North Dakota (UND) and graduated in 1976 with a B.S. B.A. and a major in aviation. He graduated with both commercial and instrument ratings. I took my CFI training at IFT, located at the St. Paul Downtown Airport and worked as a flight instructor for Waldo Anderson at the University of Minnesota Flight School at the Anoka Airport.
While teaching flying lessons at Anoka, MA, Patrick was picked by the MN Air National Guard to attend pilot training. He spent a year at Reese Air Force Base in Lubbock, Texas and flew the T-37 and T-38. After graduation he returned to MN and flew the C-130 for the MN Air Guard as a co-pilot and eventually as an aircraft commander.
While flying for the Air Guard, Patrick was hired by Republic Airlines in 1980. He flew as a flight engineer, Convair 580 co-pilot and Captain, DC-9 co-pilot and Captain and retired as an Airbus Captain with Delta Airlines after going through the mergers with NWA and Delta.
For the past twenty five years, he has been involved with EAA Chapter 25 at the Airlake Airport. I was chapter president for 3 years back in the early 2000's. I'm still on the chapters BOD. He's banquet chairman for life and the scholarship committee leader having started 3 scholarships. He is also one of three owners of a Pietenpol (wood and fabric, open cockpit airplane) that we built as a chapter 25 project. The airplane took ten years to build and is now completed, except for painting.
Patrick just retired from the MN Aviation Hall of Fame BOD following his second 3-year term. As the scholarship committee chairman, he started three $1500 scholarships for the Hall.
He built and owned a hangar at the Airlake Airport. He has owned a Cessna 172, 182 and a Beech Baron. He was also part owner of a Hawk XP on floats. He flies fly as a safety pilot and ferry pilot with a friend in his Cessna Caravan on amphibious floats. His favorite flying now is flying a floatplane.
The best testimonial he can provide comes from his wife. She says I love airplanes more than her. It's not true, but it might be close.
Get to Know Patrick Halligan!
Favorite aircraft?
F4U Corsair – because it looks so cool! I attend Oshkosh AirVenture, every year, and I look at the Corsair like dog looks at a steak.
Favorite thing about the MNPA? 
I joined the MN Pilots Assoc., because I saw the need for an organization that would protect the MN pilots rights and those of our state airports. (Like AOPA, only on a state level.) I was asked to join the board and help get a scholarship started. I helped get 3 scholarships up and running. Clearly, I has a passion for aviation scholarships.
Thing that can only happen in Minnesota
Only in Minnesota can you experience, 75 degree weather, ice and snow, a thunderstorm and tornado and a torrential rain while flying in the same day.
Fun Fact
Back when I owned my Cessna 172 and 182 I gave over 100 kids a free Young Eagle ride. The rides were for kids between the ages of 8 - 17. I flew supersonic in a T-38 while attending pilot training in Lubbock, TX.
Grant Wallace
Originally from Mississippi, Grant Wallace has made Minnesota his home and brought with him over 25 years of aircraft maintenance and operational experience.  Grant  holds a flight instructor certificate, commercial pilot's certificate with instrument and seaplane ratings, an airframe and powerplant license, with an inspection authorization.  

Grant's main interests are being a mentor to younger mechanics and training pilots who are interested in the challenges of off-airport operations. Grant is also a military veteran who served as an aircrewman on several models of aircraft.  Grant works for a major aerial imaging company and is currently rebuilding a 1969 Piper Supercub.

In addition to the Minnesota Pilots Association, he is a member of the EAA, AOPA, and the Minnesota Seaplane Pilots Association, where he previously served as a board member.
Get to Know Grant Wallace!
Favorite aircraft?
Piper Supercub
Favorite thing about the MNPA? 
What I enjoy most about the Minnesota Pilots Association are its members and sponsors. There are interesting people who have experiences that we all can share in some way.  Minnesota provides such a great landscape to experience nature and a great economy that relies on, and supports aviation throughout the state.
Thing that can only happen in Minnesota
Several years ago I was able to fly a supercub from the start of the Mississippi River all the way down to my hometown of Greenville Mississippi. It was a great way to see how the humble beginnings of the river turn into such a large moving body of water that supports an enormous amount of commerce through the middle of our country.
Fun Fact
I moved over 900 miles from my hometown but still live less than 5 miles from the Mississippi River.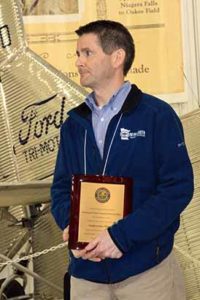 Steve Thibault
Steve began flying at the age of 15. He attended the University of North Dakota (UND,) which is where he first began his flight instructing career. After graduating from UND, with aviation and business degrees, he returned to the Twin Cities and began instructing at the Anoka County Airport. Since then, Steve has made the training pilots his profession.
During his 37 years of flying and his 32 years of flight instructing, Steve has accumulated over 18,000 hours of flight time, provided more than 17,000 hours of flight instruction in airplanes and 2,000 hours of instruction in flight simulators, has given an unknown number of hours of ground instruction, and has flown over 100 different types of airplanes.
Steve is the owner of FlightProficiency, a flight training company and co-owner of Sim Flite Minnesota, a simulator company located at the Anoka County Airport. In 2015, the FAA named Steve the "CFI of the Year" for the Great Lakes Region.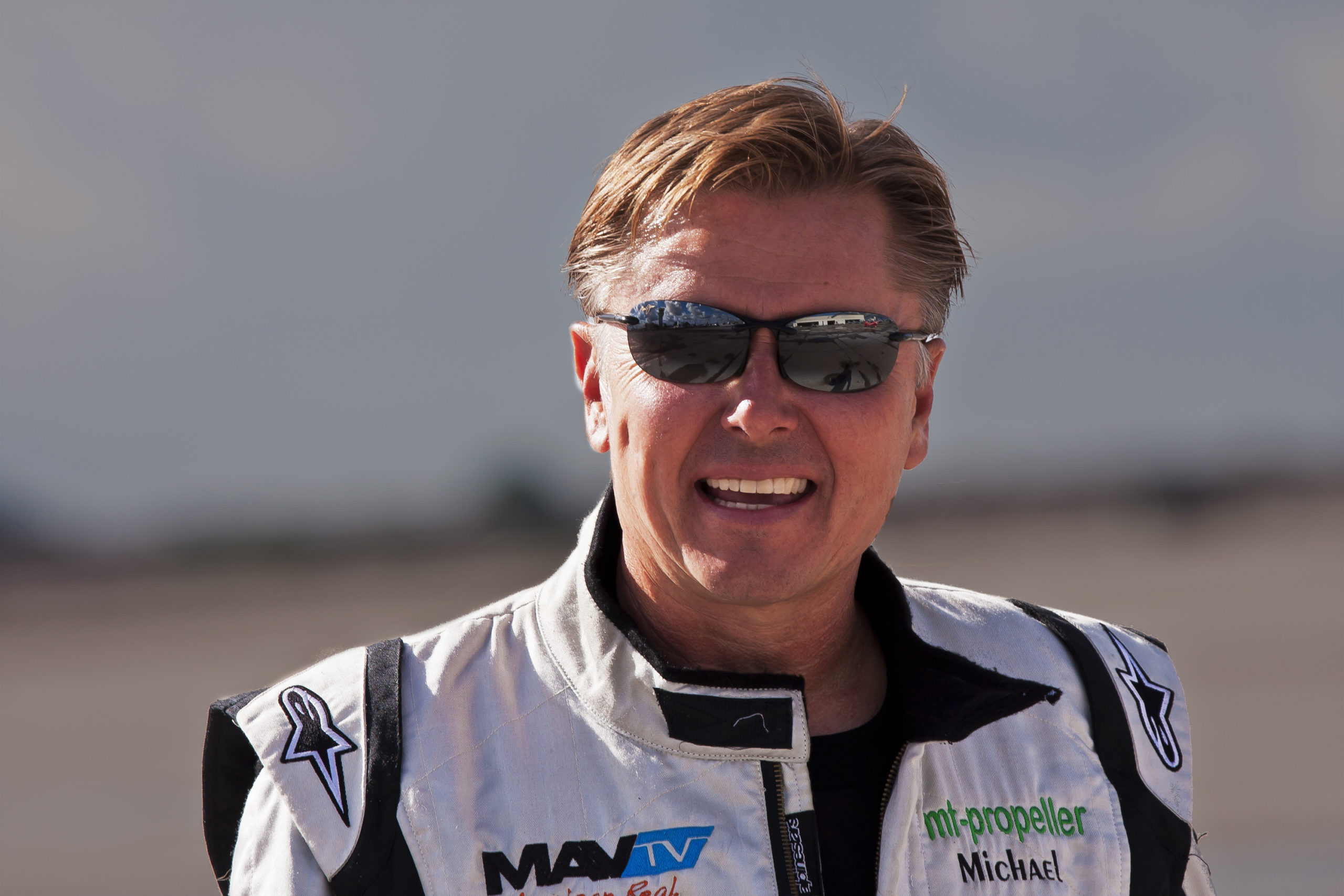 Mike Wiskus
Mike's passion for aviation started when he was very young. Mike's Dad took him to his first air show at their hometown in Iowa at the age of 10. That show made an everlasting impression so deep that at 14, Mike rode his bike to the airport for two weeks straight and bugged the owner of Dwyer Aircraft in Mason City, IA for a job washing airplanes and cleaning hangars just to be around airplanes. He traded his work of washing airplanes for flying lessons and received his Pilot's License on his 17th birthday. His first flying job was with Lundstrom Ministries is Sissiton, S.D. After a year, I started working as a Freight Dog flying Cessna 207's the eventually Beech 18's. This is really where I cut my teeth in aviation. Flew cargo for 5 years, then purchased my first company, an aircraft charter company based at the Minneapolis Airport.
Forty years later, Mike has accumulated more than 30,000 flight hours and has qualified in more than 40 aircraft. Mike was a 2002 U.S. National Aerobatic Champion, and a member of the 2004 U.S. Aerobatic Team. His excitement for aviation and willingness to share his experience with people around the country is nothing short of contagious in his attempt to help encourage kids of all ages, to not only dream, but to live their dreams and never give up! Wiskus just retired as a full time airshow pilot for 23 years. Mike owns and operates West Metro Aviation at the Buffalo Municipal Airport (KCFE). West Metro provides aircraft maintenance and aircraft sales.
Get to Know Mike Wiskus!
Favorite aircraft?
Still the Beech 18, from my cargo days.
Favorite thing about the MNPA? 
The people and their unselfish agenda to promote aviation in our State.
Thing that can only happen in Minnesota
Only in Minnesota can you experience, 75 degree weather, ice and snow, a thunderstorm and tornado and a torrential rain while flying in the same day.
Fun Fact
I love to play and collect guitars.